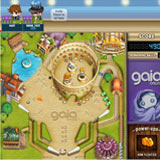 Yes, the name was
Gaia Online Games,
and it was contain many falsh games insides. When you registered you will have 400 gold when you already activated by the email. This online games is complete, we can lay games and earn gold. We can collect gold by surfing the website and commenting and make a vote rating on some avatar or else. If you're active in the forum you can earn gold too each time make a post in that forum.
Collecting gold is fun and also you can upgrade your tools an bought accessories to make your avatar more pretty or handsome.
I like to play fishing and always want to upgrade my fishing rod :)
This is really cool game, try this one and you will want more. :) Visit the
Gaia Online Games
.